Home » Attitude, Careers, Financial Planning Documents, Goal Setting, Personal Development
How to make a $100,000 a year – Business Plans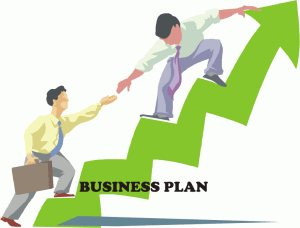 Do you want to make $100,000 a year?  In this post, I will show you how.  Often times, when people hear about a "business plan", they instantly assume someone is talking about a complex preparation package for people seeking to start a new business.  However, this is not the only place a business plan is effective.  I would suggest that no matter what you do, you should have your own personal business plan written out every single year.
A personal business plan consists of the process of putting your "business" goals on paper, while providing the steps to achieve such goals.  Some of you may think that this may sound a lot like standard goal setting, however, there are distinct differences in setting up a business that makes it a very worthwhile task in your own financial planning.
First off, your personal business plan should be related to your business only.  This is not to say that you shouldn't make goals in other aspects of your life, but for this particular plan, it should be solely focused on your personal business efforts.  The plan applies to any line of work you may be in.  Whether you are a CEO of a Wall Street firm, a pet groomer, or a landscaper, you should begin every new year with a fresh business plan.
Your business plan should break down what it takes to be successful in your line of work and how exactly you are going to accomplish that.  Kobe Bryant did not wake up one morning randomly knowing how to shoot a jump shot.  It took years of practice and discipline for him to get where he is today.  The same goes for any other occupation out there.  In most cases, people did not fall in the positions they are currently there by luck.  They planned out what it took to get there and how they themselves were going to make that happen.
Lets take, for example, an insurance salesman.  After looking at his last years call log, he finds that he made a total of 1500 cold calls to new potential clients per month (18,000 per year).  Well, as a result, he made a total of of $180,000 in commissions for that year.  So technically, this salesman can conclude that every call he makes is roughly worth around $10.  Of course this is really not the case, but for most sales jobs, performance is merely a numbers game.  Knowing that he historically performs at this $10 per call rate, he can than adjust his daily call schedule to earn his next year's goal of a $200,000 year.  This same principle can be used in a variety of different measures.
A business plan should also include desired characteristic traits you wish to possess around the workplace, as well as things you feel you need to work one.  Take note of people around the office who are succeeding.  What attributes do they possess.  The best way to become successful at work is by surrounding yourself around people who already are.
Be specific about your monetary goals.  If you want to earn $100,000 next year, write it down!  If you don't, it will be hard to see how exactly you get there.  The above example showed our salesman that one way he could get to his new "lofty" income goal is by increasing his daily call amount.  While breaking down your business plan, you will visually see just what it will take to earn what your goal is.
Now some of you may be saying, "well I'm stuck in a salary position and have no way of making anymore money than my contracted amount."  Nonsense!  Within your company there are ladders of salaries.  Most likely there are people around you making the money that you desire to.  What are these people doing differently?  If you are just as qualified and talented as these people then there is no excuse for them making more money.  If you lack certain skills that they have, work to sharpen those skills.  Come to work earlier and stay a bit later.  Remember, you set the goal so it is you that needs to make it happen.  If you do have the same skills and are not making the same amount, go see your manager.  You would be surprised about how many times you are worthy of a promotion and they just don't know it or are waiting for you to say something.  If they feel you are not qualififed, ask him/her for feedback about what you are lacking.  Then, start this process over.
Also, we live in a day of age where you can make money in a variety of different ways.  Thanks to the internet, you have access to the whole world to try and make money.  You have certain skills and traits that people will pay money to learn.  See how you can integrate that on the web for some supplementary income.
Sure, we all like to have money and success, but strive to keep it within reason.  As I have always said, money is not the definition of "success" and more important things should not be sacrificed for it.  When making your business plan, consider your other "life goals."  If doing what it takes to earn you're desired income only happens at the expense of acheiving your long term life goals, it is not worth it.  Consider thinking a few years out on how you consider to reach these goals, thus not burning yourself out all in one year.  Why work to make a good living, when at the end you cannot enjoy the fruits of it.
After completing a business plan, always keep it where you can see it daily.  Why spend time on this intensive document if you're not going to reflect on it?  I keep mine in the top drawer of my office, so that when I do get frustrated, I can see what exactly I'm doing wrong.  The business plan doesn't lie.  If done correctly, it acts as the Holy Grail of successful business practices for you personally in your business.  If you're not seeing success, you've most likely waivered from your plan.  Take it out every week to make sure you're living up to your goals.  If you are doing what you set out to do and are still not seeing success, revise your plan in way that points you in the right direction.
The power of a business plan is great.  When just asking how can I earn $100,000 a year?, it can seem distant and unattainable at the moment.  However, when really breaking it down, studying your current circumstances, and implementing a plan, you will be surprised at just how easy that road can be.  This combined with other principles discussed on the site can help you.