Home » Attitude, Goal Setting
The Definition of Success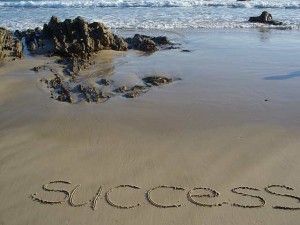 Why is financial planning important? Why even bother with personal finance and trying to plan for the future. I believe most people would say, "to become successful." What is success? The term is so vague. I have known many people throughout the world, and that term has had a lot of different meanings. For some, just waking up with a roof over their head and food to eat is success. Others believe that every day they live in full health is success. Some say success is earning at least a million dollars. I am not here to try and define it to you or tell you the meaning of success. Instead, I would like to suggest a thought that Success is much more than making a lot of money.
For me, success means joy or happiness. Sure, money can make life easier or seem more enjoyable, but it cannot be the sole source for success. Many very wealthy people of our society have shown through example that money cannot buy that happiness that everyone searches for. That is because there is more to the equation.
Success begins from inside of you. The lesson of setting goals is an essential part of finding success in our life. By planning and setting goals, we are able to define what success is in our own life. What drives you? Why do you get up in the morning? What is your passion? These are questions you should be asking yourself. Get together with your spouse, if you have one, and ask them how they define "being successful." The point is, you should consider finding success as more than just finding financial gain.
Another important element of finding success is living a balanced life.  Call it moderation, yin and yang or whatever.  We, as humans, have many needs to facilitate happiness in our life.  It is important that we stay sharp on all aspects of life.  In my experience, I have found most happiness when I am balanced in the four following life traits: Relationships (family and loved ones), Health, Spirituality (this does not necessarily mean religion), work or education.  For me, these are the four main traits I try to balance.  Of course, some may be more focused on than others, but I have found that if I remember not to forget about building up these four traits by keeping them all continually improving and growing stronger,  I feel most "success" in my life.
Sit down and find out what needs balance in your life.  Usually, when we are continually waking up with a bad feeling in the back of our head that keeps nagging us hour by hour, it is usually because we have not kept one of our "core success traits"  in balance.  Try and find out which trait it is and how you can improve it.
As you find success, show gratitude for it.  Whether it is to God, your family, people who are struggling or other means, giving back is an essential part of enjoying success.  You will not reach success on your own, make sure to always show gratitude to those that help in that path.  Gratitude is such a big principle in my book.  I will expound on it more in another post.
When setting your goals, make sure you find out what your "being successful" definition is.  In doing so, you will place that magnet that will continually pull you in reaching your goals.  It will also make you truly happy when doing it.