Home » Careers, Financial Planning Documents
Get The Job – How To Make A Good Resume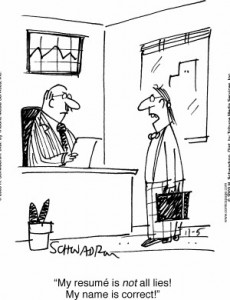 In the post, Preparing For A Job Interview, I discussed several important elements to remember when preparing and executing a successful job interview.  Here I am going to talk about one of the most important element.  The Resume.  The sound of it can make people cringe.  I think most people are more worried and bothered about creating an updated resume than about their actual job hunt or interview.  It can be brain racking and tedious sometimes, but having a good, strong resume can give you a big edge against your competitors.  You don't necessarily need a page full of job experience.  As it does help to have good experience, you can manipulate resumes to play to your strengths.  So how do you do this?
Clean and Professional
Some people get the wrong idea of "standing out" amongst competitors and feel that using colored paper or an enlarged styled font will somehow give their employers the impression that they should be chosen over their competitors.  This couldn't be anymore wrong.  Although it may seem plain and boring, a simple, clean resume is important in maintaining a perception of professionalism to your employer.  Your name should be the biggest word on the paper.  You can freshen your resume up with bolded headers, bullets, and indentation, but keep the appearance of clean and professional.  Doing so will give your resume a good impression to your employer.  The content of your resume will distinguish you from the rest.  Below is an example of a clean and professional resume.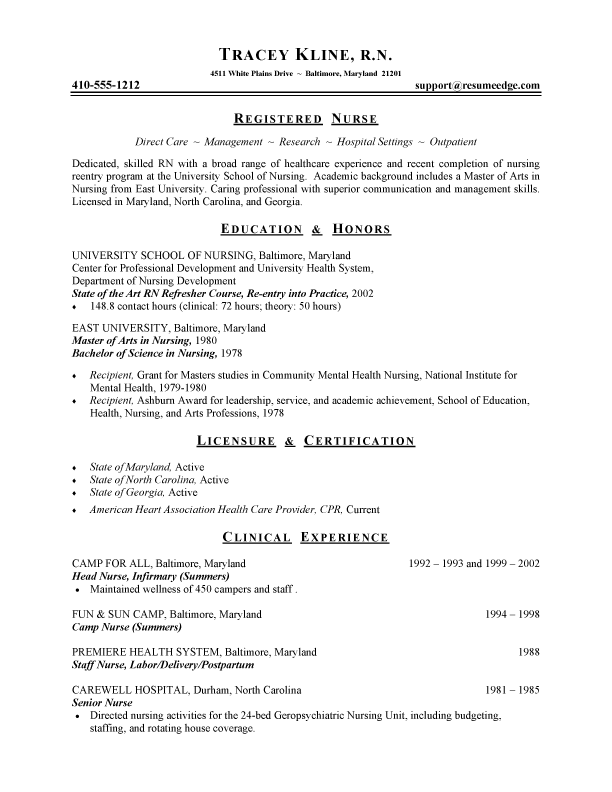 Start with Strengths
In my past resumes, I usually use the following four main sections in the resume:
Experience in (what job I am applying for) – This is the work experience directly related to the job you are applying for (doesn't have to be prior jobs, could be volunteer work or other experiences.)
Education – Your list of educational accomplishments, with your most recent degrees and accomplishments first.
Other work experience – This is other work experience that may not be directly related to the current job you're interviewing for.
Other achievements/interests – This is your bragging section.  Any accomplishments, interests, personal core values or anything else that you think will set you apart from others.
Your first few resumes will not have a lot of previous work experience on it.  That's not a problem.  If you do not have much work experience, than start with something else.  Employers are not just interested in your past work experience.  If education is your strength, start with that.  You can put your past work experience towards the bottom.  Some employers will be looking at hundreds of these, so you want to put your best foot forward and catch their attention as soon as possible.
Keep it Short, Aim for One Page
As you get older, you may have more to brag about in these documents.  However, it is good to aim to keep this document to a page.  If you do have to go over, consider printing on front and back.  A stapled, two page resume can be overwhelming on screeners and may just be that one little thing that puts your resume in the "discard" pile.  If you are running out of room, considering cutting your less relivant jobs or other jobs that have become outdated.  Sometimes you are asked to provide a "cover letter."  If that is the case, than attach a brief cover letter introducing yourself to the company.  Cover letters are becoming less and less popular.
Preparing References
Many times employers will ask for references to use to get more information about you.  These can be very influential for better or for worse.  I am amazed at people that I get called to "refer" to new companies.  Some are people I barely knew, or sometimes, didn't think much about.  Make sure you have a strong relationship with the people you choose.  It is also wise to call them before hand to ask permission to use their name.  This can also give you a chance to help prepare them of what job you're going for and maybe give suggestions of what they are looking for.  Make sure they are good references!  Try to stay away from your family.  Although sometimes you may have influential people in your family, it is always better to use outside of kin references.
After generating a strong resume, use it.  There are many online resources that can help provide leads for you in your hunt for a career.  Sites like Resume Rabbit will take your resume and send it out to tens of thousands of employers looking for new positions.  This can be a great help and speed up your process for getting interviews.
By bettering your chances at getting the job you want, you greater the chance of the getting the job that better fits your needs and, in turn, gets you closer to accomplishing your goals.