Home » Retirement, Saving Strategies
Learn To Save – Create An Emergency Fund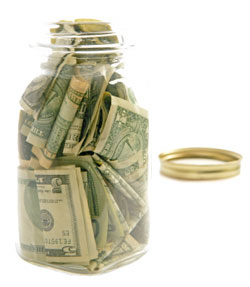 I find it very interesting to see the different saving/spending dynamics of the older generations compared to the youth of the world today.  With the help of movies and TV, much of the youth of today seek to be rich, or at least try to own expensive goods, at such a young age.  Sure, it may be fun to race around in a Porsche or BMW in your 20's, but if you stretch outside your means to buy such, you could very well end up regretting it in the end.  I do think the older generation still had parenting influences that were around The Great Depression, so the principal of hard work and save for tough times is embedded in their head.  Maybe it will take another depression to teach our youth these same principals or you can just choose to live by them.
One big fact is that most Americans are horrible at saving. If you are from another country, you probably already know this, but no other country comes near the debt that US consumers pile up to buy things.  Hopefully, this debt is going towards useful and needful things, such as school and house loans.  Unfortunately, this is not the case for most Americans.  It is very normal for most people in their twenties and thirties to live paycheck to paycheck.  If they reach the end of two weeks and their account balance is $0, they feel that they have done well.  They feel as long as they stay out of the red, they're doing OK.  Some are even  fine being in the red, as long as it remains "manageable."  This practice couldn't be more detrimental to the principals of  financial planning and personal finance.
The goal of financial planning and this site is to help people find financial freedom and enjoy the things in life at their free will.  Saving is an essential part to this process and can be a life saver for you during critical times in your life.  I have always had a goal to try and save 20% of my paycheck.  Mind you, after taxes, religious donations, and expenses, this can become a tough task.  However, doing so will greatly reduce the stress of finances, knowing that you have money in the bank.
You Don't Need Something To Save For
It's amazing how often I talk to people who are young and living paycheck to paycheck and they say to me, "why should I save right now?  I don't have anything to save for."  Just because a new house, college, or a car is not included in your immediate future, does not mean you can't save.  You don't need something to save for.  In fact, this is the best time to save!  You will be able to save more money and sooner or later, I promise, you will need to dip into those funds.  Start saving now whether or not you are planning to buy something big.
Establish An Emergency Fund
An emergency fund can play a very important role in your financial planning.  An emergency fund is usually a portion of cash which is set aside that if you were to lose your job, you could survive strictly on the fund for around six months.  So, if you currently make $2,000 per month, your emergency fund would be around $12,000.  It may seem like a lot to set aside for an "emergency", but trust me, this fund can be a lifesaver.  During good economic times, most would probably think such a fund is worthless.  However, as we have seen recently, a healthy, thriving economy can be turned around in the matter of a few months.  Many people I know have recently lost their job and have families and a mortgage to pay for and have no clue what to do.  It is during times like these, an emergency fund could save you.
Emergency funds need not to be reserved just for job security.  It can be used for cases in which a medical emergency has occurred, legal matters, accidents or disasters, etc.  It is a source of funds that should be used in case of an emergency.  Having such a fund, could one day make a huge difference in your life, but it starts by saving for it now.
If you do not have one, think about opening a savings account.  ING Direct offers great rates for people desiring to put away some cash, you can set one up here: The Orange Savings Account. Great rates, no fees, no minimums.
By learning to save at a young age, you will find that the habit will stick with you throughout the years.  By practicing good saving principals, you can reduce the stress in your life and better prepare yourself for tough economic conditions.  Remember, we live in a cyclical economy.  That means we go up and we go down.  It will always be like that, remember it, even when it seems like things are so good.  Saving and having an emergency fund will help you better weather the tough times.