Home » Careers, Personal Development
Preparing For A Job Interview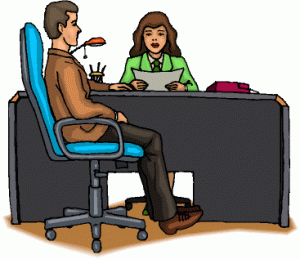 We have said before that with the new generation growing up, statistics show that people between the ages of 18 and 38 will change jobs an average of 10 times.  With this being the case, this means that you will need to be prepared and ready to nail 10 job interviews.  In the US, finding a job can be very competitive and it is important to find ways to distinguish you from your competitors.  Finding the right job is critical for your life and for your journey in financial planning.  Here are a few simple tips that can help you.
Research
The first step to prepare yourself for an interview is to do some due diligence about the company you are interviewing for.  Most every company has a vision or mission statement.  This usually gives a brief description of why the company exists.  When getting hired, companies like to know that you have taken specific interest in their company and that you can contribute to the values they make them who they are.
What to Bring
The first impression.  Dress nice.  You can never overdress for an interview.  I have never been rebuked for wearing a suit.  Also, make sure to bring a pad of paper, pen, and several copies of your resume as there could be multiple people interviewing you.  You will be surprised at how impressed employers will be as you come prepared ready to jot down points that are of value and that you find important.
The Interview
Be confident.  They say most employers make their decision of hiring within the first ten minutes of meeting you.  Maintain good eye contact and be vocal.  Don't be afraid to ask questions.  Try tying in questions that you learned from your research, like "I noticed you have over 53 locations, do you plan on opening more?" or "I see that you have 59 different product lines, which one is your best seller?"  Questions like these show your interest in the company and helps the employer to feel like your not just going to another job interview.  Give good feedback to the employer's question.  If you do not understand the question, rephrase back to him to make sure you do.  There is nothing worse than not answering the questions they want to know about you.  The point is to stand out.
Follow Up
You would be surprised at how much success you could have at getting a job if you just reminded the employer of yourself.  A couple weeks after the interview, if you haven't heard back from the company, send them a quick email reminding them of who you are, appreciation for the original interview and when to expect to hear back from them.  Several times this extra effort could put you above that other person as you become fresh in their memory.  Also, it can happen that they lose your paper work.  In any case, it cannot hurt to follow up.
The interview is such a critical part of your career, as the next 10-20 years of your life can be decided in a 15 minute meeting.  Give this event its needed attention.  By becoming better in your job interviews, you will have more job options to choose from, which will help enable you to find the job that fits you and your needs.  Being in the right job is critical for financial planning and can help you accomplish your long term goals.