Home » Goal Setting
How To Set Effective Goals – S.M.A.R.T. Goals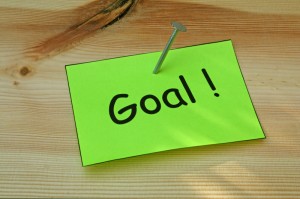 In discussing Personal Financial Planning, I talked about the first, crucial step being goal setting. In the post, Step 1 setting goals, I did not go into detail of good ways to set goals. This will be discussed into more detail in this segment. As I have said before, setting goals defines the purpose for which you strive to receive financial freedom. Not only can it be a map and a time line for you as you work towards your goals, but it can also be a driving force and motivator as you reach stumbling blocks along the way. In physics, The Law of The Masses discusses how large masses have energy that draws in other masses. This is how moons orbit around planets. The smaller masses wish to cling to the larger ones, which causes a real, attracting force. Setting goals can be just as applicable. As we set goals, it will not feel as much that we are "working" for that goal as much as the goal begins to "cleave to you." Sure, work will be required, but goals can be that magnet force.
So where do you begin? There are many methods of goal setting that can be found. All of them entail pretty much the same basic principles. The best thing to do is find out which one best fits you and your personality. I will discuss what I use and what works well for me.
SMART. Goals
S.M.A.R.T. is a popular goal setting acronym that helps outline what exactly your goals should be. S.M.A.R.T. stands for Specific, Measurable, Attainable, Realistic, and Timely. These are great words to help set guidelines to keep your goals within. Lets break them down one by one.
Specific
When setting goals, try to be as specific as possible. For instance, "I want to be happy when I'm older." That is very vague and doesn't give you a good timeline to work around. What makes you happy? How about, "I want to retire by 45, live in a two story house in the rocky mountains and have enough money to support my family, vacations and of course my season pass for skiing." By defining what your happiness is, you can see better what needs to be done to achieve that happiness. So now I know my cutoff time to be earning a "salary in the office" is 45, and all of a sudden I have an actual timeline. I can begin planning how much money I need to earn before that given time, what I should be saving, and other "sub or short term goals" to help me achieve my "large or long term goal."
Measurable
This goes hand in hand with being specific. If you are not specific in setting goals, then there is no ability to measure your progress of how well you are doing to achieve those goals. If you say, "I am going to do better at work this week," that is hard to measure. If you say, "I'm going to do better at work this week by getting in earlier, contacting more associates, maintaining focus, taking shorter lunches, etc", that becomes a lot more measurable. Accountability is a very important part of setting goals. In fact, I recommend using a spouse, family member, or someone else close to you as someone you can report to. Show them some of your goals when you set them, and ask them to check up with you at least once a month. If you need to find a "life coach," then do it. They're worth the money(well, some of them). They will not forget to hold you accountable for your goals. A wise man once said, "when performance is measured, performance improves. When performance is measured and reported back, the rate of improvement accelerates." It is true that if you are given someone to report back, your performance will improve.
Attainable
That famous quote "you can do anything you want to with the right attitude," well, it's false. There is a strong power that comes from positive thinking and attitude, but us as human beings, have our limits. There is only 24 hours in a day, and you can never change that. It is good to maximize your time, but do not set goals that are too much to handle. By doing so, you will get burned out and your goals will get pushed to the side. By setting goals, recognize the things that must be done to attain that goal. If you have to, start out with small goals until you feel more comfortable with bigger ones. A small goal is better than none.
Realistic
Attainability discusses the steps required to achieve the goal, where being realistic describes whether you "believe" in that goal. There is no use setting a goal, if you don't believe you can accomplish it right off the bat. Set goals that you honestly believe you can accomplish. Sure, goals should stretch you and may seem like a big mountain to climb. But recognize you can climb that mountain. By believing in the goals you set, it makes the attainable part a lot much easier.
Timely
Goals should be bound with a timeframe. In fact, for me, I like to break my goals into three timelines" Short Term, Mid Term, and Long Term. Short term are goals I want to be doing today. Changes I can make at work. Things I can do to make me a better husband. What I want to accomplish this year, etc. I try and reflect on these on a weekly basis. These are the "trench goals" that keep the wheels spinning for the other two. Midterm goals are ones I see accomplishing anywhere from 5-20 years. When do I want to retire, how many kids do my wife and I want. Where do we want to live, etc. I like to reflect on these goals about every quarter, to keep them fresh in mind. From there, I can critique my short term goals if I am a bit off track. Last, are my long term goals. These are anywhere from 20 years an more. These are things I want to be read at my eulogy. I want to have done these things by the time I die. Even though some of these may be several years out, it is good to start reflecting on them now. I try and reflect on my long term goals a couple times a year.
So that breaks down the SMART goal system. It works well for me. If this system doesn't work for you, find something that does. Everyone is different.
Review Often
An important part of these goals is to remember to review them! It is such a shame to devote so much time drawing up your life plan and then to shove it in a drawer, never to be seen again. Print them out (especially short term goals) and put them everywhere. Put them in the bathroom, fridge, car visor, on your desk at work, next to the remote, and wherever else you see yourself during the day. By continuing to see them every day, you will be better at accomplishing them. I use to carry around a personal planning sheet. It was a weekly sheet that had everyday listed with hourly blocks. I would map out my week every Monday and fill in the time slots as best I could as well as writing my short term goals on it. Sometimes, my duties seemed overwhelmed and I didn't know how I was going to get everything done. I would then fold it and put it in my front pocket and carry it at ALL TIMES! Even though this was the busiest time of my life, I was able to get more done and live a more balanced life than any other time in my life. I woke up earlier and was better physically conditioned, as well as learning more all in the same amount of time in a day. You don't need a fancy, leather-bound day timer or Iphone. All you need is a piece of paper.
Include Family
If you are married or are living with a partner, you know that many of these goals will be shared with others. It is important to include your family when setting these goals. Although some goals should be personal goals for you to work on, many of your goals should be discussed with your family, since they will be with you every step of the way. Get with your spouse or partner, and share your goals with each other. You may find that living in the Rocky Mountains is not what your husband/wife had in mind when you retire. Together, develop joint goals that will make you both happy and reflect on them together. This can be a great experience.
Just beginning to plan your goals will get you excited. As you set these SMART goals or whatever works for you, you will see on a daily basis ways that can help you achieve your financial freedom. Like I have said before, the vision is the first step. Without it, any success we find is pure luck.