Home » Financial Planning, Retirement
Buying Insurance – The Good and The Bad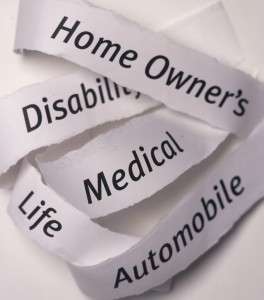 Insurance. It always has a negative connotation, because it is usually a protection against something bad or negative happening.  As it is important to always keep a positive attitude, it is also important in measuring risks and learning how to manage those risks.  Knowing how to buy insurance can be a great tool for you as well as a safeguard as you strive for financially freedom.
Nowadays, you can almost find an insurance policy for just about anything.  It all depends on how much you're willing to pay as a premium.  Professional prospected college athletes sometimes purchase insurance policies as a protection in case of injury during their college year.  Their premiums can be insane, but it can act as a hedge in case of injury, one of which could support them the rest of their life.
Think of it this way, there are many ways you can manage risk in your life.  You can avoid risk, which would result in you keeping yourself in shape, maintaining a good diet, and avoiding risky investment opportunities that leaves you vulnerable to a lot of downside risk.
You can take on risk, meaning that you carry the full burden yourself.  Many people choose to not medically insure themselves or only buy "liability" insurance for their cars. Buy doing this, you fully take on the risk yourself in case of any problems.
You also have the choice of reducing risk.  Continual auto check ups as well as visits to the doctor can keep your risk at lower levels.  This helps of reducing risk of a problem occurring.
The other option you have is to completely transfer your risk. You can transfer your risk by purchasing an insurance policy.  By doing so, you pay a "premium" to have another company assume the risk for your potential problems.
Most likely you will eventually buy some sort of insurance in your life.  When considering insurance plans and what to buy, you may want to consider the following:
Stay Big
There are many companies out there fighting for your business.  It is best to stick with the larger companies who have been around for a while and have a lot of capital backing.  It is not unusual for insurance companies to go bankrupt, which could be a disaster for you if you are in the middle of an emergency.  Some companies may tempt you with lower premiums, but the extra few dollars a month is worth the security of a strong, reputable company.
Look For Discounts
Many insurance companies offer discounts.  For instance, well performing students are often given a lower monthly rate.  You may be eligible for a discount, depending on your employer as well.  Those who have family who have retired from the military are most likely eligible for USAA insurance, which is a very cost-effective, private insurance company which services military families.  Even if your father or even step-father was or is in the military, you are most likely eligible for USAA.
Compare Quotes
Just like any other industry, insurance is a business.  As such, companies are competing for your business.  Call around to several companies getting their quotes for their services.  You may be surprised at how much of a discount they may be able to offer in order to win over your business.
Purchasing insurance is an important element of financial planning.  All it takes is one medical emergency or one severe car crash, to put you in a pile of bills.  By purchasing insurance, you transfer most of the risk liability to your insurance company, helping you to focus on other important aspects of financial planning.