Home » Careers, Financial Planning, Miscellaneous
Get Rich Quick…Rarely!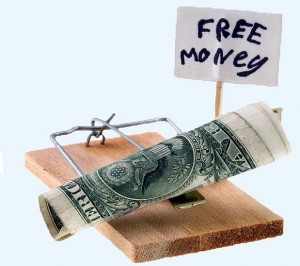 It is hard to browse the web these days without getting an ad or running into a website stating, "Get Rich Quick or Earn Money From Home!"  Following these catchy slogans are usually testimonials from people who have supposedly participated in the program and who have very easily made a lot of money, without doing much themselves.  It is my goal of this site to provide insights to finding financial freedom, however, this process does not happen overnight.
It seems that hopes for a quick wealth has been with us for a long time.  Early gold rushers left on the spot for the search of gold in California, hoping that they would find their "quick riches."  We hear the tales of those that did find success, however, we rarely hear of thousands more that found nothing and lost everything.  Aside from winning the lottery, or being a criminal, I cannot think of many things that will make you rich overnight.  Sure, you could one day find oil on your land, or win the jackpot from a slot machine,  however, your odds for getting a fatal disease at a young age is much greater.  So instead of playing the game of odds, lets try to improve them dramatically.
Invest in Yourself
I am amazed at the countless multi-level-marketing businesses and online scams my friends get caught up in.  In many of them, they are not only required to pay an initiation fee (many of these can be thousands of dollars), but also are required to spend a lot of time getting set up.  Whether it is going to motivational sales meetings, getting their website set up, learning the process of the business, there is a lot of time that gets used.  In most cases, after several months of failed attempts to make money, people give up on the program and jump to the next one that catches their eye.
It can be so enticing to look further into these ventures, however, as the old saying goes, "if seems too good to be true, it probably is."  Think of all of the lost time that could have been invested into sharpening their skill-set, learning more work experience, and making them that much more competitive in the workforce.  On top of that, instead of draining their resources in attempts to launch this program, they could have been adding to it.  I ask you, next time you are asked to pay money to begin a new pyramid business, give it to charity, because most likely you will never get that money back.
Hard Work vs Smart Work
I am not a believer that one must slave their entire life to be able to enjoy a successful life.  Not at all!  In fact, I believe with proper planning and goal setting, this process can be accomplished rather quickly in life.  It all depends on how much you want it.  Don't let those that say you need to work until your 70 before you retire, or you need to work two jobs.  Success is not derived by how many hours you put in.  In fact, I have known people that have consitantly held two to three jobs their entire life and still struggle to make ends meet.  Hard work is an important principle, but it is only effective when that work is assisting to accomplishing your end goal.  A man could work and sweat all day moving a pile of rocks from one side to another, but at the end of the day, he still has a pile of rocks.  Sure, the man worked incredibly hard, but he has nothing to show from it.  Create success out of your work.  Make sure your work is contributing to an end that will be satisfying to you AND your employer.
I often hear of people who are content in their slothful jobs who say, "work is so easy, I don't even do anything.  I just get to browse the internet the whole time, it's great."  Although it may seem fun to get paid for not much work, it can be a disease to financial planning.  Time is a precious thing.  It is important to utilize your time the best you can to work towards your end goal.  When employed, not only are you providing a useful service to the company you work for, you are also strengthening your own skills.  This can only be a benefit and will bring good rewards down the road.  Don't let three years go by with a job that you didn't learn anything from.
Believe
Believing is probably the toughest part.  Most entrepreneurs and successful business men/woman have failed multiple times before they had their great success.  The point is that they always believed in themselves.  For most cases, a leap of faith must be taken to reap big rewards.  The power of believing and having confidence in yourself is a big one.  This principle is used in professional sports, medicine, military service and in many other aspects of life.  You are the only one stopping you of accomplishing your goals.  Everything else is possible.  Believe in your ideas and have the confidence to try them.  Do not get frustrated with your failures.  Learn from them and it will eventually lead you to great success.
Monetary success can be found rather easily, but it takes planning and application.  Do not fall into the trap of "get rich quick" scams, as most of them will just be a hurdle to your goals.  Instead focus on your skills and you will find that not only will you become "rich", but you will have become better for it.