Home » Miscellaneous
Beware of Gift Cards – Especially in Tough Economic Times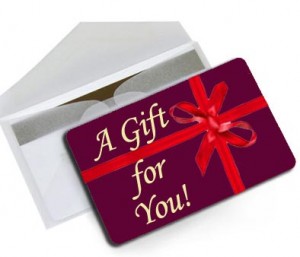 I'm sure almost everyone has received a nice card, whether it be for Christmas or for congratulating you on an achievement, where inserted inside the card was a nice gift card to your favorite department store. Sure, it is a great gesture, but it can also be a waste of money in difficult economic times.
Many people have the impression that a "gift card" or "gift certificate" is as good as cash. This is not the case. As soon as you exchange cash for that gift card, you are bound by a set of rules that are dictated by the retailer. These restrictions can include: where they can be used, what time frames they can be used, specific product lines, or eventually can become invalid. Some of you may be asking how can this be? If I am paying cash for a gift card, shouldn't be used just as liberally as cash? You would think so, but that is not the case.
As tough economic times set in and signs of a recession are present, gift cards even become a more risky gift. Recently, retailers such as Levitz, Linens N' Things, and KB Toys have taught us that gift cards can become completely obsolete if the retailer fails. Hundreds of thousands of dollars were lost by customers holding Linens N' Things gift cards, as the store first announced Chapter 11 reorganization in early 2008, only eventually filing for Chapter 7 bankruptcy and fully liquidating their inventory. Doing so, freed them from their liabilities, which includes gift cards. In accounting, gift cards go down as an "accounts payable" on the liability side of the balance sheet. Throught Chapter 7, the company freed themselves of this large liability (with the help of bankruptcy court), at the expense of thousands of unhappy customers.  Some couldn't even buy that bed they had been eyeballing.
Sure, it is rare for large national retailers to go under, but it can happen, and sometimes with little warning. But even if the cards are not fully wiped out, they can still be an inconvenience. Just the other day I was in Macys, trying to take advantage of their big "end of the year sale". After gathering all the items I felt I needed at the time, I went to cash out with all of my printed coupons. Left over from wedding gifts, I had a lot of credit to Macys on a gift card, so naturally, I chose to pay with the card, or at least attempt to. Unfortunately, to take advantage of this sale, you needed to use a form of currency other than their own gift card. Ouch. I don't remember agreeing to that when I got the thing.  So, as you can see, they can still cause problems.
One last reason to question the use of gift cards, is the problem of human error.  It is estimated that 10-20% of all gift cards are lost and never used.  This is another reason why retailers love selling them.  They work much like rebates.  Sometimes, the cards just fall through the cracks and it becomes free money in the pocket of the retailers.
I know it's fun giving people gift cards, as it feels as if we have some control over where they spend their money, instead of just giving straight cash. Plus it's more presentable, right? I mean, usually they have a nice picture and can come in fancy wrapping. But maybe you will think twice when buying one next time. A good alternative are Visa gift cards or American gift cards that can be found at most grocery stores and can be used almost everywhere. Sure, not every gift card experience will be bad, but sometimes it's better to be safe than sorry.